On Friday 4 February the Senior School students took part in the annual Interhouse Swimming Carnival. What could be considered perfect timing due to the everchanging COVID-19 environment the students performed to their absolute best with 15 records broken this year.
Congratulations to the following students who broke past records.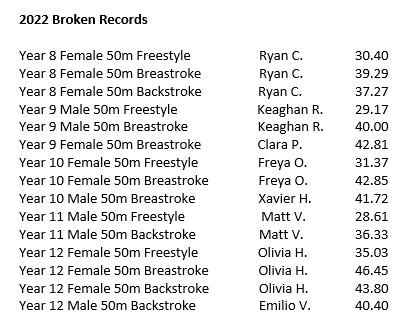 As always, the Orange Army took to the water and performed extremely well on the day. Congratulations to the following students for taking out the Champion and Runner Up Champions for their year level.
Year 7 Champions
Sascha H. and Kyan D.
Year 7 Runner Ups
Claire B. and Tyson B.
Year 8 Champions
Ryan C. and Barnaby L.
Year 8 Runner Ups
Neave W. and Evan K.
Year 9 Champions
Clara P. and Keaghan R.
Year 9 Runner Ups
Tatum T. and Harrison W.
Year 10 Champions
Freya O. and joint winners Liam R. and Xavier H.
Year 10 Runner Up
Tessa Keefe
Year 11 Champions
Tongxin S. and Matt V.
Year 11 Runner Ups
Brogan D. and Charles P.
Year 12 Champions
Olivia H. and Emilio V.
Year 12 Runner Up
Charlee J. and Lachlan T.
The prestigious Blue-Ribbon race provided another excellent finish to the day with the fastest swimmers across all year groups competing against each other in an open event. The results were;
Girls Blue Ribbons
Frist Place: Ryan C.
Second Place: Freya O.
Third Place: Clara P.
Boys Blue Ribbons
First Place: Keaghan R.
Second Place: Matt V.
Third Place: Xavier H.
Finally, the overall House points provided an incredible finish to the day. Congratulations to Cervantes (4327) who took out the day, closely followed by Eglinton (3834), Twilight (3733) and Sydney (2668). It was fantastic to see such great performance and participation across the board. Thank you to all the students, parents and staff who assisted in making the day a smooth operation and an enjoyable carnival for all.